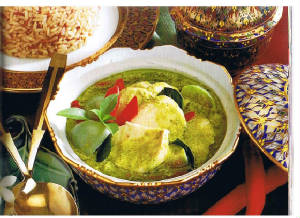 Chicken green curry
Lunch Menu
All lunch entree's are served with a choice of soup and spring roll or salad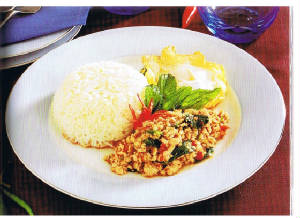 Stir fried Basil
STIR FRIED
$7.95
Choice of chicken, pork, tofu, or shrimp (shrimp add $1)
Basil Leaves
Garlic Sauce
Cashew Nuts
Fresh Ginger
Mixed Vegetables
Sweet and Sour Sauce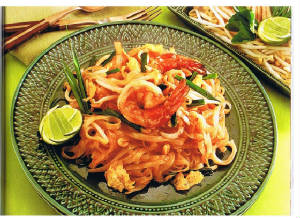 Pad Thai
NOODLES $7.95
Choice of chicken, beef, pork, tofu, or shrimp
(shrimp add $1)
Pad Thai: Thai soft rice noodle, stir fried in our authentic house sauce with egg, bean sprouts, scallions, and ground peanuts
Pad Woonsen: delicate clear silver noodle, stir fried with egg, onions, scallions, snow peas, and carrots.
Pad See Eu (Soy Sauce Noodle): stir fried soft rice noodle with egg, broccoli, and carrots in a special soy sauce.
Panaeng Curry
CURRY $8.95
Choice of chicken, beef, pork, tofu, or shrimp
(shrimp add $1)
Red Curry
Panaeng Curry
Green Curry
Mussamun Curry
Yellow Curry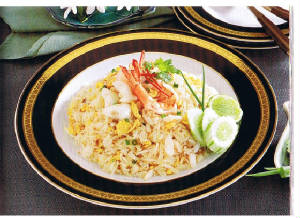 Shrimp Fried Rice
FRIED RICE
Choice of :
Vegetable, Chicken, Beef, Pork or Tofu $7.95
Shrimp $8.95
Combination $9.95
DUCK ( De-boned and crispy) $10.95
BASIL DUCK
served with fresh basil leave sauce, with onions, scallions, snow peas, carrots, zucchini and bell pepper.
CRISPY DUCK
served on a bed of saute' broccoli, cabbage, carrot, zuchini and snow pea.
SIAM DUCK
served with mixed vegetables, topped with our homemade sweet chili sauce.
CURRY DUCK
served with a tasty curry sauce and mixed vegetables.
SIAM
SIZZLER $9.95
Choice of :
chicken, beef, pork, tofu, shrimp, seafood (shrimp add $1, seafood add $2)
Stir fried with diced cucumber, onion, red bell pepper, cashew nuts. Bedded with fresh spinach and topped with fresh peanut sauce.VOLCANO SIZZLER
$9.95
Choice of :
chicken or shrimp (shrimp add $1)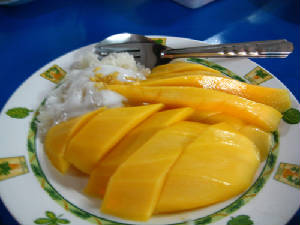 Sticky Rice with Mango
DESSERTS
Honeyed Banana $3.95
Thai Doughnut $3.95
Siam Sticky Rice $4.95
DRINKS
Thai Iced Tea, Thai Iced Coffee $2.50
Soda (can) $1.50
~~ Brown Rice please add $1.00 ~~
Lunch Delivery
~ Free for downtown area
(about 1 mile radius)
~ $2.00 delivery charge w/ $20.00 purchase order
( outside downtown area and no more than
2 miles radius)